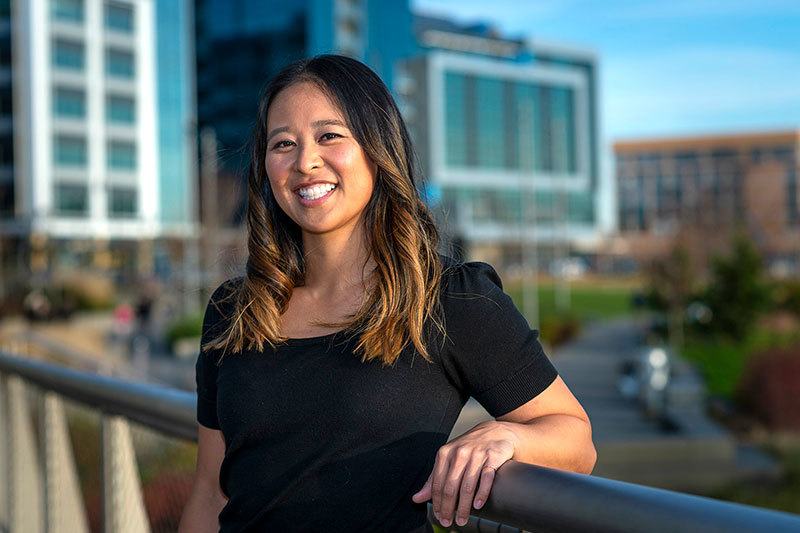 Dr. Traci Saito grew up observing her father's love for orthodontics and the incredible ability to impact people's oral health and lives. Dr. Saito knew from a young age that she wanted to become an orthodontist. She spent her summer vacations helping her father out at his orthodontic practice in Portland, Oregon. Dr. Saito was driven by the art of orthodontics and passion for helping people. She was inspired after witnessing the transformation of not only smiles but personalities and confidence.
Being well-versed in various types of orthodontic treatment, from conventional braces to the latest innovations, such as Invisalign® clear aligners, Dr. Saito takes pride in keeping up with the most current evidence-based treatments and the latest technological advancements to increase the efficiency of her care and to put patients at ease. She has a diverse background using Invisalign, 3D imaging, temporary anchorage devices, accelerated tooth movement techniques and dental lasers. Dr. Saito has extensive experience treating cases involving both early interceptive, comprehensive and interdisciplinary treatment, missing teeth, growth modification, impacted teeth, craniofacial abnormalities, orthognathic surgery, and preparation for complex restorative dentistry such as implants, crowns and veneers.
Dr. Saito strives to give the highest quality of orthodontic care and the best patient experience to the Vancouver community. She loves interacting with her patients and their families and seeing the transformative power of creating beautiful smiles.
Education
Board certified by the American Board of Orthodontics and a member of the American Association of Orthodontics®, Dr. Saito has been practicing the specialty of orthodontics for many years. She earned her Bachelor of Science in biology and Bachelor of Arts from Santa Clara University. She returned home to Portland, Oregon, to complete her dental degree (DMD) at the Oregon Health Sciences University (OHSU). Dr. Saito practiced as a general dentist for a year prior to attending a rigorous 2.5 years of orthodontic residency at the A.T. Still University. In Arizona, Dr. Saito received her certificate and Master of Science in orthodontics and orofacial orthopedics and her master's in business health administration. She also published several scientific articles while at A.T. Still University.
Personal Life Interests
When not seeing patients in the clinic, Dr. Saito enjoys traveling around the world, taking photos, cooking and scuba diving. Dr. Saito also has a huge passion for helping underserved communities. Throughout her lengthy education, her ambition led to participating in many local events and dental humanitarian trips abroad. In 2016, she founded her first non-profit organization: Health Beyond Communities. This organization was created to inspire young health professional students to provide global humanitarian efforts and educate local communities to become self-sufficient.