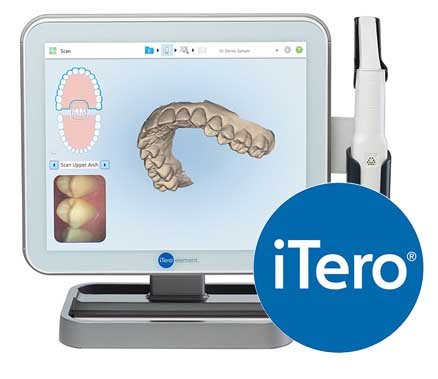 NO more GOOP!
NO more GOO!
At Brown-Saito Orthodontics, we continue to strive for excellence while staying on the cutting-edge of orthodontic technology. We are very excited to provide the iTero® intra-oral digital scanner for our patients. The iTero® allows us to take a digital impression via a laser without radiation. This scan produces a highly accurate, three-dimensional digital image of the individual characteristics of every patient's tooth and gum tissue. That means no more goop or gagging while taking impressions before and after braces, or for Invisalign®.
3D models can be immediately sent to your dentist or oral surgeon to assist in ensuring your restorations (crowns, implants, bridges, etc.) or surgical movement of your jaw(s) are as accurately defined as possible. 3D scanning also saves you time and decreases the amount of appointments required for your treatment.
The iTero® is all about keeping you comfortable while delivering precise imagery, without the putty-filled impression tray that makes you gag! What a great way of making a first impression! During the impression process, you can breathe or swallow as you normally would. You can even pause the process if you need to sneeze of just want to ask a question.
Moreover, when you combine the digital model produced by the iTero® with Invisalign's newest software, the Invisalign Outcome Simulator, you can see how your straight teeth will look when your treatment is complete! This top-quality, innovative service is another example of our mission to go above and beyond at Brown-Saito Orthodontics. Our goal is to make sure that you achieve your straight smile in the most comfortable, aesthetically pleasing and state-of-the-art fashion possible.