Dr. Constance Brown Is Vancouver's Best Certified Invisalign Teen® Provider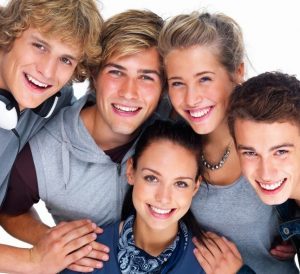 Clear, Removable, Comfortable, Customized
Invisalign Teen is a radical approach to ortho. It gives you the great smile you want without the hassle and embarrassment of traditional braces. No one wants a metal mouth or have to worry about what they can or can't do because of braces. Invisalign Teen uses clear plastic aligners to straighten out teeth, meaning everyone–parents and teens alike–get what they want.
I've got enough on my plate…now I need braces?
We know your life is busy and complicated, but Invisalign Teen won't add to any of that. You won't need to turn down dates or hide in your room until your braces come off. Invisalign Teen fits into your lifestyle. Your aligners are:
Clear
Removable
Super comfortable
Customized for you
Chips, Candy, Whatever!
Your friends with braces probably say they can't eat anything, but with Invisalign Teen, you don't have to worry. Unlike traditional braces, clear aligners are removable. So you can eat whatever you want without worrying about popping off brackets or losing an elastic. Eat up!
Keep Living Your Life!
Invisalign Teen aligners are durable and comfortable, and are designed to fit in with all of your activities. Whether you're on the football team, do drama, or play in the band, you don't have to worry about braces getting in the way. They can even be removed for special events like a performance or the prom without setting back your treatment.
Why Parents Love Invisalign Teen
Apart from the convenience of the system, parents love that compliance is so easy. Invisalign Teen aligners have blue dots that fade when they are worn. So if your teen isn't wearing them, you'll know. It's easy for you to make the most of your investment and help make sure your teen is wearing them for 20-22 hours a day, as prescribed.
The system is also incredibly affordable. Invisalign even provides up to six replacement aligners if any become lost or damaged.
What Teens Are Saying
We think Invisalign Teen is pretty great, but don't take our word for it. Check out what other teens like you have to say.
If you are interested in learning more about Invisalign Teen in Vancouver, Washington, call us at 360-256-7220 today to set up your consultation with Dr. Brown or Dr. Saito. We can't wait to see you!