Both of our conveniently located offices in East Vancouver, and West Vancouver, Washington, are designed to be as fun and friendly as possible. We maintain an upbeat atmosphere and offer many activities, contests and amenities for you and your family to enjoy during your treatment. Our orthodontists and team love what we do and like to have fun together and with our patients. We want your experience at our practice to be as pleasant as possible.
Children and teenagers love our video games, movies, bulletin board games and selfie station. We offer a wide variety of films for their selection, which you can view in our DVD Library. Adults and children alike can benefit from our Smile Reward program, earning points and exchanging them for gift cards of their choice.
We invite you to call us today at 360-256-7220 to learn more about our fun-oriented approach to orthodontics at Brown-Saito Orthodontics and make your appointment with Dr. Brown or Dr. Saito. We are excited to meet you and help you care for your smile!
Brown-Saito Orthodontics Patient Rewards
Successful orthodontics is a team effort, and YOU are our key player! We want to recognize your accomplishments and congratulate your winning achievements. Our Smile Reward program is an incentive program based on your compliance. You set the bar — every visit with our orthodontists is an opportunity to earn points and redeem them for gift cards of your choice.
Here are a few of the ways in which you can earn points on your Smile Rewards account:
Great brushing
No loose or broken appliances
Keeping dental visits at your dentist office
Checking in early to your orthodontic appointment
Having an appointment between 10:00 a.m. and 2:30 p.m.
Scheduling your next appointment before you leave the office.
Wearing orthodontic appliances as instructed
Referring friends
Logging into the patient portal on our website
DVD Library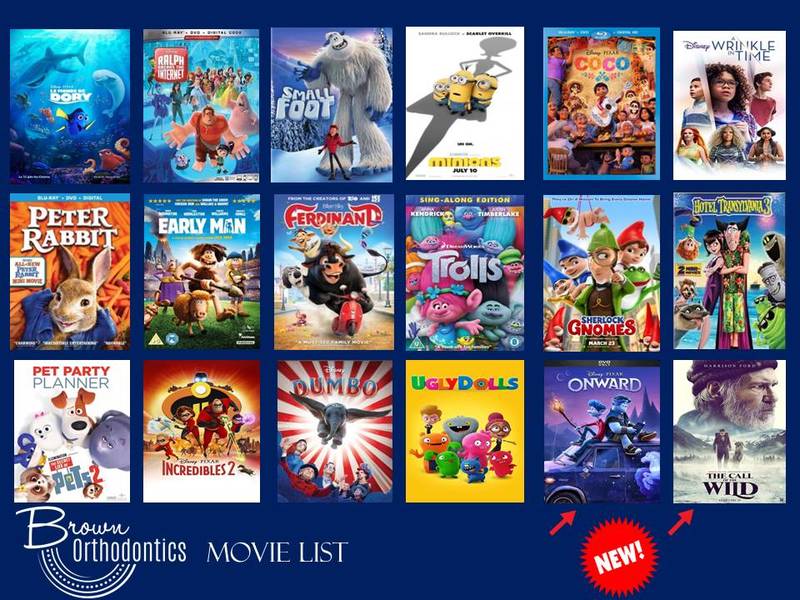 Click image to enlarge!
When you visit Brown-Saito Orthodontics, you can choose to watch a movie during your appointment! Check out what is currently playing at our office using the list below. To make your appointment with our caring orthodontists in Vancouver, Washington, call us today at 360-256-7220.